Road Trip en Famille pour finir en beauté
Par TitiandMimi le mercredi, décembre 4 2013, 11:19 - Lien permanent
Eh bien, nous y voilà…
Il semblerait bien que nous nous dirigions de ce pas vers le dernier article de ce blog. Avant de commencer (et donc d'en finir), je souhaite remercier l'intégralité des personnes qui ont lu, commenté ou apprécié cet espace de partage de nos aventures australiennes. Ce fut finalement pour nous un excellent moyen de vous communiquer nos émotions mais aussi d'un autre côté, d'y ressentir les vôtres.
Comme l'annonce le titre de cet ultime article, finissons en beauté !! En effet, durant les 3 semaines qui viennent de s'écouler, nous avons donc continué d'arpenter l'immensité australienne dans toute sa splendeur non plus à deux, mais à quatre!

Fatigués et plus ou moins touchés par un décalage horaire pour le moins déboussolant, ils auront finalement eut le droit de gouter à bien des climats. Leurs premiers pas en Australie se sont donc déroulés sous une pluie légère et continuelle ne cessant qu'en de rares instants. Le programme peu chargé, « visite de la ville » de leurs deux premiers jours fut donc pour le moins humide.
La suite la voilà :
Sous une météo toujours capricieuse, nous sommes donc allés à la rencontre de la mascotte australienne : Le Kangourou. Les découvrir mais aussi les nourrir et les câliner, furent des passe-temps des plus prenants pour nos deux voyageurs. Au passage, d'autres espèces animales locales telles que les Koalas, Wallabies ou autres Émeus leur ont également été présentés.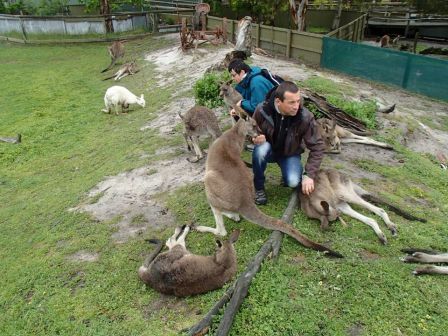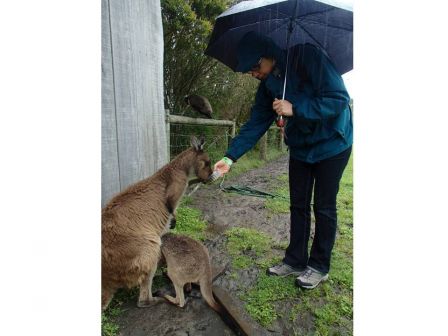 Une après-midi ponctuée de quelques éclaircies nous a permis de visiter l'île de Philip Island, en y découvrant quelques paysages pleins de promesses pour la suite.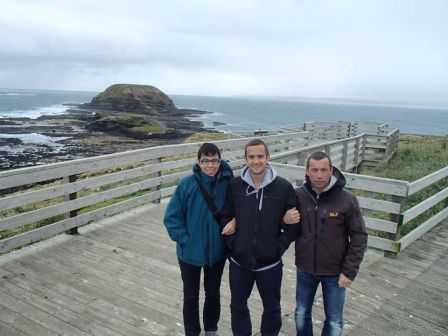 Le lendemain matin, on se lève tôt, on ne traine pas et on file en direction de la côte. Le programme du jour a jusque là été tenu secret, enfin pas tout à fait. Un saut en chute libre est prévu pour le paternel, du côté maternel on est déjà dans la confidence depuis un bout de temps. Le saut se passe de commentaires et une vidéo est là pour ne rien en oublier.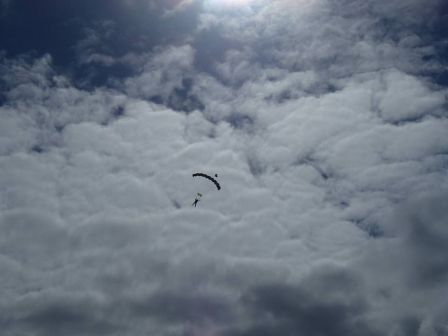 Le programme de l'après-midi a quant à lui été gardé secret. Nager au milieu des otaries, cela ne se fait pas partout. La météo est bonne mais l'eau glaciale. Heureusement, les combinaisons sont là pour bien nous maintenir au chaud (enfin c'est plutôt le côté très frais du chaud pour dire la vérité).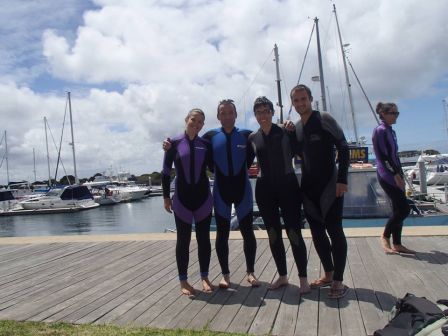 Les otaries sont bien au rendez-vous et d'humeur joueuse et joyeuse. Bref, une après-midi inoubliable.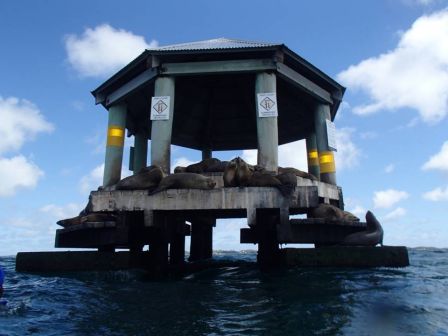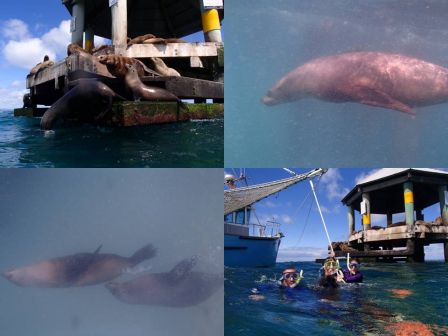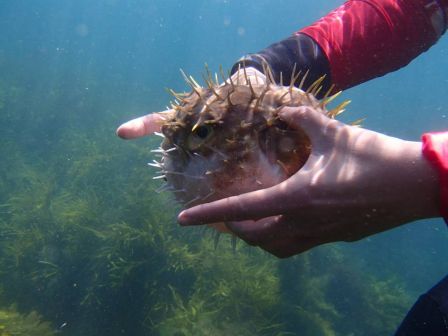 Etape 1 : Promenons nous en Tasmanie
La Tasmanie et ses paysages incroyables fut donc le premier gros spot de ces trois belles semaines. La météo, tantôt clémente, tantôt ronchonne, nous a tout de même largement laissé apprécié la splendeur des différents chemins de randonnées.
Tasman Peninsula : Cape Hauy
De magnifiques falaises escarpées ponctuées de nombreux points de vue, nous ont donc transportés l'espace d'une journée dans un univers pour le moins rocailleux.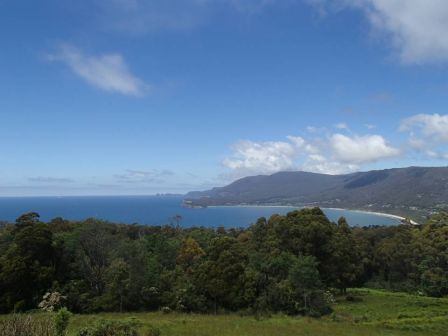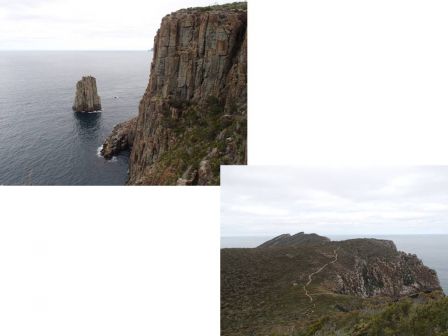 Freycinet National Park: The Wineglass Bay
Incontestablement la plus belle journée du séjour Tasmanien. Ce mélange entre plages de sable blanc, montagnes et pacifique est à couper le souffle. A voir et à revoir.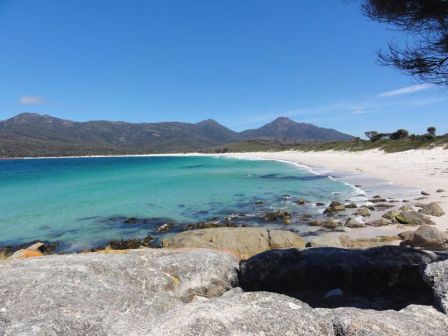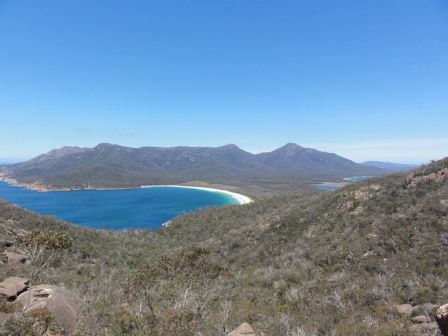 Cradle Mountains National Park
Incontestablement la journée la plus moche du séjour Tasmanien. Nuageuse, brumeuse et parfois pluvieuse, cette randonnée nous a toutefois permis d'avoir un contact des plus privilégiés avec nos amis Wombats, particulièrement friands de ce climat.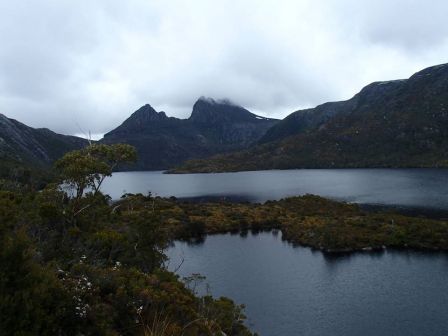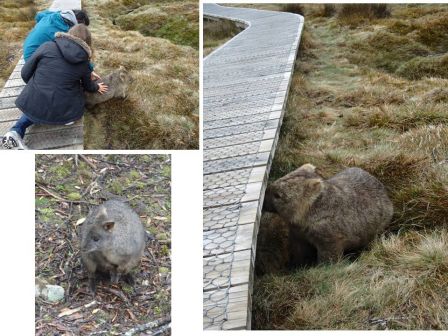 Etape 2 : Changement d'ambiance : Bienvenue dans le Centre Rouge
Sitôt rentrés, sitôt repartis. Pas de temps à perdre ! Une fois le linge propre et sec, on reprend le chemin de l'aéroport. Les bagages sont cependant bien plus légers. En effet, dans le désert, pas vraiment besoin de quoi se tenir chaud, le climat joue parfaitement ce rôle là, parfois même un peu trop. En plein cœur de l'Australie, les distances sont décuplées et des heures de bus, le prix à payer pour y découvrir ses secrets. Nous atterrissons donc dans la ville d'Alice Springs où l'on ne trouve rien sur des centaines de kilomètres à la ronde.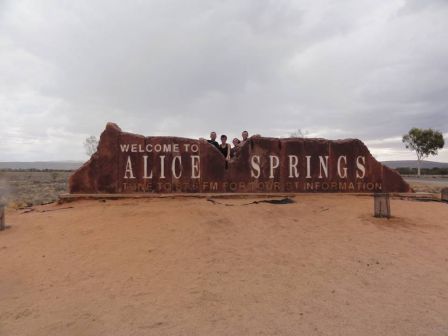 Pour ce spot là, nous avons fait appel à un tour opérateur, bien plus sûr et bien moins contraignant. Un bus avec plus de 800 000km (pour de vrai) au compteur est notre unique moyen de transport. 1500 kilomètres au programme de ces 3 jours. Autant dire qu'il va falloir essayer de s'occuper. Nos différentes destinations sont bien connues pour offrir des spectacles uniques. Le rocher d'Uluru, les 36 dômes de Kata Tjuta mais aussi les falaises des Kings Canyon sont au programme. Durant ce périple, les heures de sommeil seront comptées. En effet, la plupart des balades devront se faire au lever du soleil afin de préserver les nombreux touristes d'une chaleur parfois insupportable.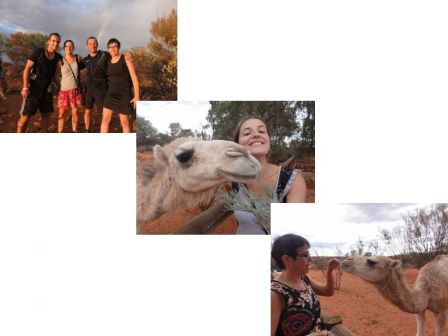 Uluru: Ayers Rock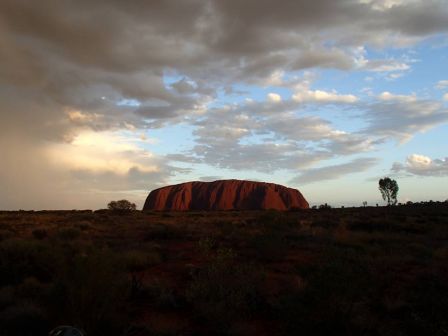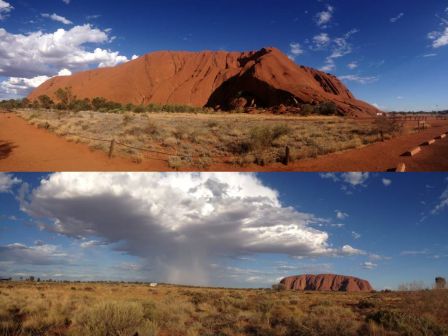 Kata Tjuta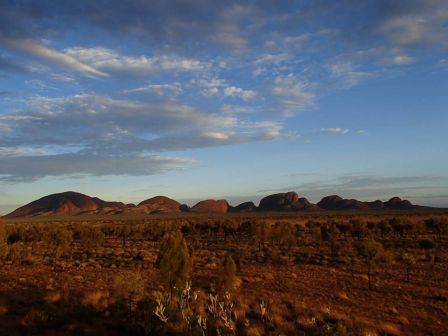 Kings Canyon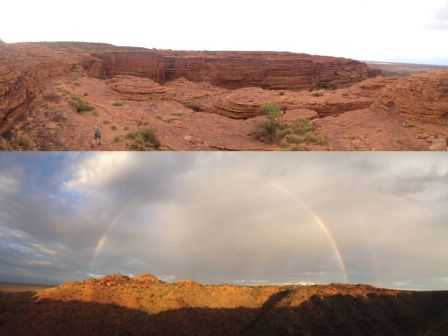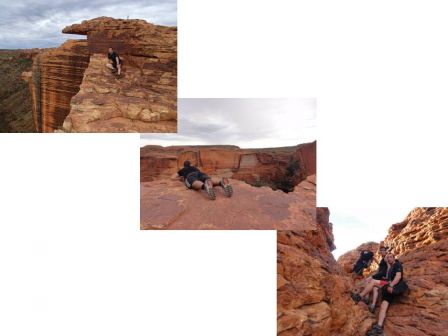 En chemin, notre bien-aimée guide a souhaité faire une halte sur le bord de la route afin d'y récolter du bois pour alimenter un grand feu de camp prévu le soir même. Manque de bol, son analyse topographique ne fut pas très pertinente et nous nous sommes alors retrouvés coincés, le bus ensablé jusqu'aux rétroviseurs… Malgré un anglais me rappelant mes grands débuts australiens, le paternel pris alors les choses en main. Des directives toutes en gestes et un franglais parfait sont finalement venus à bout de cet incident de parcours. Comme quoi, la barrière de la langue, c'est que des conneries !! Suffit de pas être manchot !!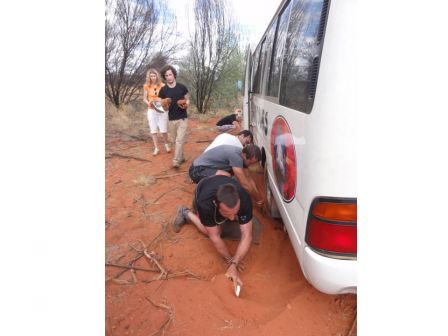 3 jours, 2 nuits et 1500 kilomètres plus tard, nous voilà donc de retour sur Alice Springs d'où nous prendrons notre vol de retour dès le lendemain matin.
Etape 3: La Great Ocean Road
Une fois arrivés sur Melbourne, même programme, on déballe, on lave, on sèche, on remballe et nous voilà de nouveau dans la voiture pour aller passer les quelques jours restants sur la Great Ocean Road, la plus populaire route du Sud de l'Australie. En effet, longeant la côte sur des dizaines de kilomètres, elle offre de spectaculaires points de vue et est également connue pour être l'une des plus grosses réserves de Koalas sauvages du pays.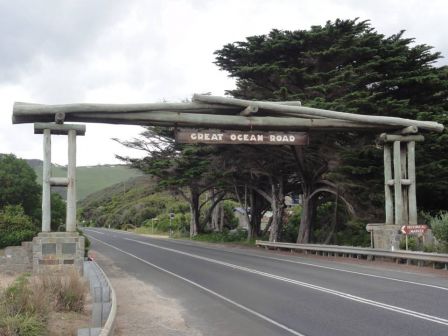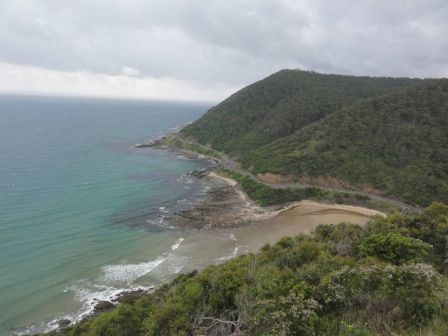 Durant ces 3 jours, nous avons croisé nos amis perroquets, gourmands et curieux, particulièrement friands du pain de mie acheté pour l'occasion.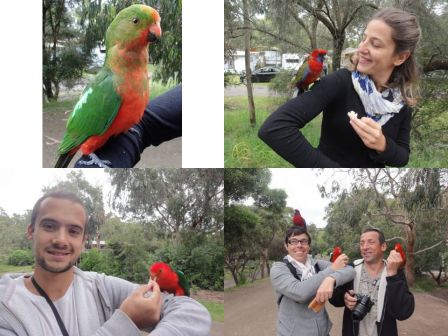 Comme promis dans bon nombre d'offices du tourisme, nous avons également fait connaissance avec de nombreux Koalas sauvages rencontrés au gré d'une courte marche au cœur d'une forêt d'Eucalyptus.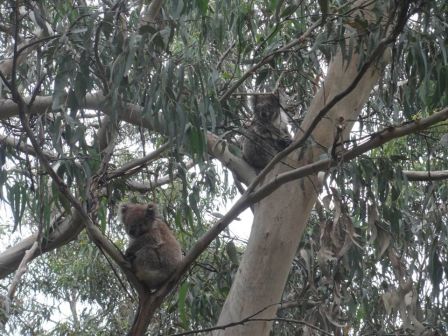 Le spot le plus touristique de la Great Ocean Road reste cependant « The Twelves Apostles » (Les Douze Apôtres). Bien qu'aujourd'hui au nombre de huit, ces formations rocheuses principalement constituées de calcaire et issues de l'érosion et de l'avancée de la mer, se dressent à quelques mètres de la plage et offre un spectacle tout à fait unique en son genre.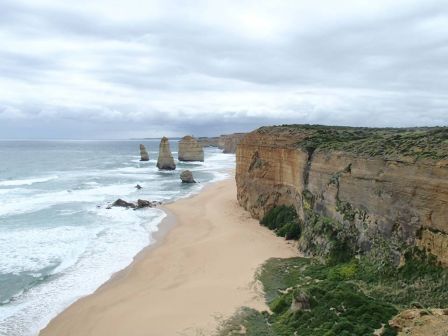 En remontant un peu à l'intérieur des terres, nous avons fait quelques haltes pour découvrir plus en détails le Great Otway National Park, offrant de nombreuses marches au cœur d'une végétation tropicale parsemées de chutes d'eau de tailles et de formes diverses mais toutes aussi séduisantes (tout comme nous).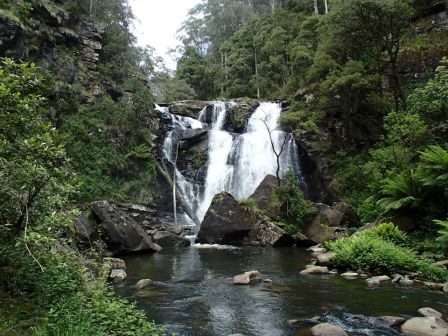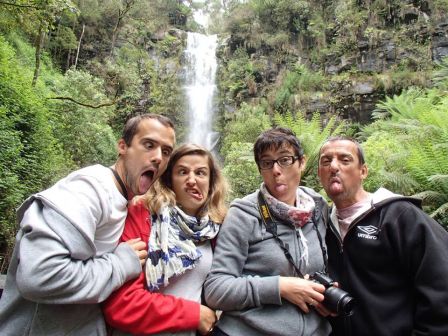 Il est maintenant temps pour nous de vous laisser sur ces dernières photos et après une année passée à vous décrire notre vie palpitante à l'autre bout du monde.
A l'heure où j'écris ces dernières lignes, nous nous trouvons à l'aéroport de Dubaï d'où notre vol pour rejoindre la France décollera dans un peu moins d'une heure.
Il va donc nous falloir réapprendre à enfiler gants, bonnets et autres manteaux et se remettre la tête dans les CV et à éplucher les offres d'emplois disponibles sur le monde du Web.
On vous embrasse tous, tant Australiens que Français.
Titi et Mimi.
THE END